Areopagus Warrior Grave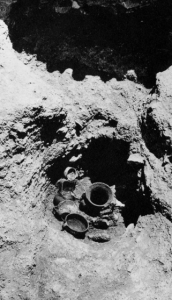 The Areopagus Warrior Grave was found in Athens and dates to 900 B.C. The urn-amphora was marked by a flat stone slab, which was supported on two small revetments to keep its weight off the vessel (Whitley 131). Even though multiple burials where found in a similar fashion, the sheer volume of weapons and the condition of the grave was rare.
The neck amphora had a deliberately curled sword wrapped around the neck, which has only been seen one other time in a double grave found northeast of the Agora. The rarity was do to the fact that different cities buried their warriors in different fashions. The sword is considered 'killed' because of its shape. Archeologists believe this bending was done because  the sword was too personal of a possession for any other person to  own or even hold it. Others think it's because the warrior would need the sword in the afterlife . The other iron equipment included a pair of socketed spearheads, a broad axe-head, a javelin point, a pair of snafflebits for his horses, and two knives (Coldstream).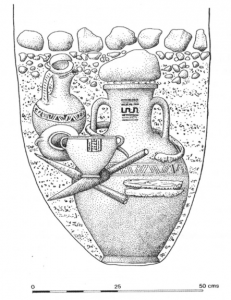 These items are example of how the Greeks full embraced iron technology. It is unclear as to why there was the major swift from bronze to iron at this time. The quality of most iron products in Greece is rarely superior the those in bronze produced at this time. Some archeologists have pointed to the shortage of tin and how iron is the only alternative to tin bronze. Others argue the transformation was do to multiple social shifts (Whitley 82).
     Besides the movement toward the use of irons there was also a huge shift in pottery. The painting style on the pots show us one of the only pieces of evidence that there was any artistic change or development in the Dark Ages. This restyling started in Athens and there was a shift away from Sub-Mycenaean to Protogemometric. The amphoras become more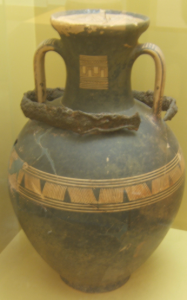 slender and taller, which is thought to be do to a faster wheel.  The creation of a compass as well as multiple brush aloud artist to perfect their shapes (Biers 107).
    This grave gave archeologists a big insight into what transpired during the Dark Ages because so little was kept in good enough condition.
By Emily Gretsky
Works Cited
  Biers, William R. The Archae
ology of Greece: An Introduction. 2nd ed. Ithaca:
Cornell UP, 1996. Print.
Coldstream, John N. Geometric Greece: 900-700 Bc. London: Routledge, 2003. Web.
Fitzsimons, Rodney D. Hierarchy and Diversity: Iron Age Burial Practices. N.p., 2009. Web. <http://www.trentu.ca/faculty/rfitzsimons/AHCL2200Y/LE%2004-03.htm>.
Whitley, James. The Archaeology of Ancient Greece. Cambridge: Cambridge UP, 2001. Web.
Whitley, James. Style and Society in Dark Age Greece: The Changing Face of a Pre-literate Society 1100-700 BC. Cambridge: Cambridge UP, 2003. Web.